AbolishTheDEA.com
February 6, 2020
American Sharia
by Ballard Quass
the drug war as Christian Science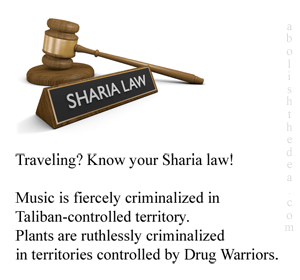 The 2019 movie "Running with the Devil" features a DEA heroine who tortures one drug suspect and murders another - this latter murder being committed while the hypocritical heroine is smoking a cigarette containing tobacco, a drug that has killed far more Americans than the natural substances that the murder victim happened to be peddling at the time. Meanwhile, we have elected a president who has openly praised the murderous Duterte for killing so-called "drug suspects" in the Philippines, i.e. Filipinos who dared to access the plants and fungi of Mother Nature. This is a president who openly envies the power of dictators and thus would gladly turn America into a country where the film heroine's no-nonsense drug war strategy was countenanced by law. In short, the nation (both its leader and its hoi polloi) is in the thrall of a Christian Science Sharia, every bit as fanatical as the worst Islamic law of that name, dehumanizing enemies and treating them like garbage merely because they dare to partake of naturally occurring plant medicines provided by Mother Nature.


It may be said that the movie, at least, is fiction, but I have yet to hear a DEA spokesperson come out to denounce the film as libel. Meanwhile, the online reviews of the movie prove that the American people still don't get it. I have yet to see a review that slams the movie as dangerous drug war propaganda, as making the case for torture and murder as government policy. To the contrary, I've read multiple reviews whose authors sympathize with the DEA murderess, regretting that still more can't be done to fight this menace from all those evil naturally occurring plants out there. Meanwhile the website Common Sense, though quick to warn parents about the movie's dirty words, has absolutely nothing to say about the anti-democratic lesson that the movie was peddling: namely that torture and murder are okay as long as the violence is directed toward scumbags who dare to access the plants that politicians have banned.

So if you're wondering what it's like to live under strict Islamic law, stop wondering: Americans are already living under a strictly enforced Sharia, targeted against those infidels who dare to look upon Mother Nature as a goddess rather than a drug kingpin.