AbolishTheDEA.com
May 10, 2019
Fifty Years of Bogus Articles about Creativity
by Ballard Quass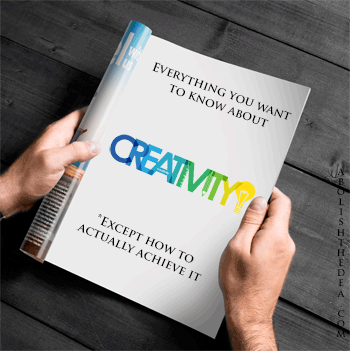 I was recently moping around my local Kroger's food store, waiting for the refill on the Effexor to which I am chemically addicted, when I noticed a colorful Time supplement entitled "The Science of Creativity" in the magazine aisle. "Great," I thought to myself, "here's another politically correct attempt at explaining creativity without reference to the psychoactive substances that can so obviously help one achieve it."

Mind you, I haven't read the supplement, and maybe Time magazine got it right, but I'm not optimistic given the plethora of timid tips on cultivating creativity that have passed for self-help in American journalism over the past 50 years of psychoactive prohibition. Authors on feel-good pieces about creativity have never been in a hurry to rock the boat by suggesting the politically incorrect fact that psychoactive substances can generate creativity out of whole cloth in a receptive mind under the right circumstances.

Why this huge omission?

It's based on the unspoken Drug War assumption that psychoactive substances are (drumroll, please) evil "drugs" that must be avoided at all costs (as opposed to socially blessed "medicines," of course), and therefore the less said about these evil "drugs," the better... when in reality, a substance is a substance is a substance - and is only good or bad as any specific use should prove it to be.

But thanks to the political manipulation of the discussion by the Richard Nixons of the world, we Americans (and our global counterparts, whom we have financially blackmailed into adopting our own jaundiced viewpoint on this matter) take a Christian Science view of psychoactive drugs and thus have the puritanical expectation that "true" creativity is that which occurs without the influence of chemical substances - as if the human mind is ever free of chemical substances in the first place. The only real question, of course, is: which chemical substances should we knowingly imbibe?

The Drug War answer is simple: "Any drugs, as long as they do not provide anything that could be remotely considered to be a 'high'." And so the Drug War signs off on anhedonia-causing anti-depressants that foster chemical dependency while yet reviling non-addictive psychoactive drugs which have the unseemly property of actually making the user feel good in real-time. ("How scandalous is that!" cries today's stealth puritan.) In other words, the Drug War is not based on a rational concern for human welfare; it is just the modern-day expression of the know-nothing prudery of the 17th-century puritan, from whose misogynist and myopic mindset we have inherited today's illogical antipathy to Mother Nature's psychoactive medicines.

And so the clever modern articles about creativity provide the reader with only the most feeble hints as to how human beings can actually achieve the creative state: "get your omega-3's, sleep eight hours a night, eat whatever vegetable is currently at the top of science's ever-changing healthy food list, yada yada yada." Meanwhile, the authors on the subject of creativity willfully ignore the psychedelic gorilla in the room: namely, the fact that psychoactive drugs in the right setting can work wonders in generating the kind of free mindset that these authors are attempting to describe and recommend. It's as though the clueless authors were sitting outdoors beside a half-dozen psilocybin mushrooms in full bloom, asking themselves, as they look up at the sky with wrinkled eyebrows: "Gee, why is it so dashed hard for we adult human beings to be creative???"

Any sensible onlooker wants to shout at them: "Hello? You're sitting right next to a blankety-blank batch of magic mushrooms, for God's sake!"

No, God is not a drug kingpin. Neither is Mother Nature. Those plants have healing properties for a reason, and not just for physical complaints either.

Unfortunately, Americans have been brainwashed by the drug warrior lie that Mother Nature's plant medicines will fry our brains, when the reality is quite the opposite. Sigmund Freud used cocaine to increase mental focus. Benjamin Franklin used opium to increase creativity. And Francis Crick used psychedelics in order to think outside the box, thanks to which strategy he discovered the DNA Helix. In fact, if any substances fry the brain, they are the antidepressants to which one in four women are addicted today, pills that were never intended for lifetime use and which are often harder to quit than heroin.

But the Partnership for a Drug Free America isn't interested in telling Americans the truth, they're interested in scaring them away from the plant medicines that grow at our very feet.

But once we reject the Christian Science propaganda of the drug war, we have no excuse for ignoring the subject of psychoactive plants when we write about creativity. To do so would be like ignoring the topic of water whenever we write about staying hydrated in the desert.