AbolishTheDEA.com
February 2, 2019
In Praise of Thomas Szasz
by Ballard Quass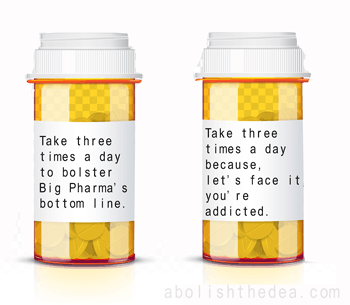 No one has lopped more heads off of the hydra-headed beast of drug-related misunderstanding than Hungarian-American psychiatrist Thomas Szasz, and one of his greatest insights had to do with doctors. Ever since they were empowered with the privilege of writing (or withholding) prescriptions, Szasz tells us, the sick or troubled amongst us have been encouraged to think of themselves as babies when it comes to medications. We know nothing about medicine and our medical instincts, experiences, and pharmacological desires count for little. The big question is: "What does a board-certified doctor think that we need?" Even if we are visiting the eminent physician for a simple cold (something that our great grandparents might have laughed off with a little tincture of opium), we still must appeal to the brow-wrinkling doctor if we hope to access anything more powerful than acetaminophen and cough drops.

I am not reminding the reader of this lost Eden in order to promote the dangerous solitary use of psychedelics and other substances, but rather to remind us that our caution on these topics is caused in part by our knee-jerk obedience to a healthcare paradigm that infantilizes us as patients and urges us to discount our medical instincts and experiences. We have been trained to distrust ourselves when it comes to drugs, to the point that the term "self-medicating" has become the taboo par excellence in the modern age. But let's remember that the disdain that modern doctors hold for "self-medicating" can be explained by more than just their concerns about patient health: after all, a doctor's bottom line is impacted precisely to the extent that their potential patients choose to "self-medicate." Little wonder then that doctors seek to characterize such patient initiative as medical heresy.

The inconvenient truth is that the non-medical world, with its many psychoactive substances, has far more effective cures for my depression than does the medical world with its beard-stroking doctors and outrageously limited pharmacopeia (especially if I have at least one botanically minded spiritual guide to aid me in my quest for self-improvement). I therefore would consider self-medication to be the rational choice for treating what ails me, were it not for the fact that the DEA is waiting to arrest me should I have the gall to improve my life outside the healthcare system with the mere help of Mother Nature. But let's remember that, in arresting me, the DEA is just following the medical profession's taboo to its logical conclusion: they are essentially arresting me for self-medicating. In this way the DEA is really just the enforcement arm of the American medical establishment. The two are in cahoots. They are both working to disempower the American people when it comes to healthcare.


One in four American women are hooked on Big Pharma anti-depressants, many of which are more addictive than heroin. That's a nice tidy annuity for pharmaceutical executives, especially when you add in the one in eight males who are likewise addicted. No wonder there are so many lobbyists in DC asking Congress to "double down" on the Drug War. The Drug War is the goose that lays the golden egg, not just for Big Pharma but for psychiatrists, law enforcement and the corrections industry as well.