AbolishTheDEA.com
August 11, 2020
MDMA for Psychotherapy
by Ballard Quass
open letter to researcher Michael Mithoefer, MD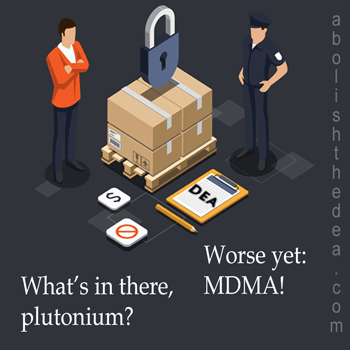 Dear Michael,

I enjoyed reading your article in the MAPS Bulletin entitled "MDMA-Assisted Psychotherapy: How different is it from other psychotherapy?"

In regard to the mindless criminalization of drugs like MDMA, I thought you might be interested in my essay entitled "How the Drug War Killed Leah Betts - and ended the peaceful rave scene."


Best Wishes,
Ballard Quass
AbolishTheDEA.com


PS I'm one of psychiatry's millions of "eternal patients" in these days of the addictive pill paradigm, and so I have 40+ years of experience on the receiving end of psychiatric nostrums for fighting depression and anxiety. Given this vast experience, I hope you'll consider it worthwhile to read a criticism that I have of the scientific method when it comes to seeking out and justifying cures for depression.

The reductionist approach is always looking for "mechanisms of action," but it is my belief that this focus blinds researchers to common sense in many cases. Take MDMA, for instance. Given my secondhand knowledge of the effects of MDMA (as described both by "ravers" and by your study participants), I have sufficient information to know that MDMA would be an effective psychotherapeutic adjunct when used, say, between once a week and once a month in a psychiatrist's office. My conclusion, however, is based on a knowledge of human nature to which reductionist science gives little attention: the fact that a human being looks forward to positive experiences, and that this very anticipation can improve the quality of one's mental life.

If I were to propose such therapy, the reductionist might instinctively object: "But we want to know the mechanism of action before we proceed: namely, how does MDMA decrease depression in this case: what are the chemical mechanisms involved?" This statement, however, merely indicates that the scientist "just doesn't get it." The scientist wants to go in search of a phantom. The MDMA does not have to decrease depression directly in order to decrease depression. Its use simply constitutes an extremely positive experience, and anticipation of use does the rest of the work in decreasing the user's overall depression.

This is why drugs like cocaine and opium can be successfully vilified by Drug Warriors: they can (perhaps correctly) say that there is no direct chemical link between use and self-fulfillment or happiness in life. What they fail to realize, however, is that there need not be a direct link between drug and effect if the drug use provides anticipation. The mere knowledge that there is "a port in the storm" of internal mental life (whether it be provided through cocaine, opium, MDMA, marijuana, or prayer) can provide one with happiness indirectly. Again, this is a psychological truism that reductionists seem always to ignore, constantly asking: "Yes, but how exactly does drug x, y or z decrease depression? What are the chemicals involved?"

The answer is, of course, that the drugs do not, strictly speaking, decrease depression at all: rather, they provide the user with anticipation of upcoming mental relief through use of said substances - and that mere anticipation does all the heavy lifting: anticipation does all the positive psychological work that the reductionist wants to ascribe scientifically to the drug itself.

And so the approval of MDMA as a drug to treat depression becomes unnecessarily problematic, as reductionist science scrambles to show chemical pathways whereby the MDMA can bring about the increased happiness with which it's associated, completely ignoring the powerful role that anticipation of regular MDMA therapy can play in boosting mood and one's own patience with the downsides of daily experience. (At least I fear that this could happen. I have no specific knowledge of the actual state of affairs viz. such research.)

I'm not saying that MDMA cannot have a direct and positive effect on the brain. I'm saying that this is not the only way that we can justify the use of such a substance in a psychotherapeutic setting. We need not downplay and ignore the simple fact that occasional scheduled MDMA use can improve a user's life through mere anticipation of the psychological relief and insights that the drug can supply in a positive setting.

Speaking personally, I would definitely look forward to such a psychiatric appointment and be happier simply in knowing that this appointment loomed on the horizon. What a contrast to the depression I currently feel knowing that a pro forma office visit is coming up: a visit that I'm forced to make every 3 to 6 months of my life in order to obtain re-authorization for my purchase of yet another expensive set of prescription drugs. (That's the problem with the DEA: they fetishize drugs, making them so "awesome" that even a user of 40 years cannot be trusted to use his medicine wisely without constant bureaucratic oversight, approval and reapproval.)

PPS I hope you don't mind, but this email will also appear on my website, where I hope my thoughts on this topic will inspire thinkers to unravel the tangled web of superstition and pseudoscience that currently constitutes America's anti-scientific attitude toward this fetishized scapegoat for social problems that we call "drugs." I trust that it "goes without saying" that these are simply general philosophical observations, not criticisms directed toward you personally. So thank you for your patience and attention, and I wish you best of luck in your important work with MDMA as a psychotherapeutic tool.




Since Google tends to bury controversial sites like mine alive -- especially since I do not participate in their byzantine ad scam (er, scheme) -- I send my message straight to the horse's mouth as often as possible, in the form of letters like the following, some actually sent by good old fashioned snail mail.