Welcome to the
DEA
Lounge!
Gee, I wonder why my agent booked me here. He does realize that I'm going to be riffing on the folly of criminalizing Mother Nature, right?
Oh, well, better he book me here than he book me in San Quentin, right?
Do you guys know that the DEA marched on to Monticello in 1987 and took away Jefferson's poppy plants?
I kid you not. Talk about rolling over in one's grave, Jefferson would have been pissed big time.
He's like, "what the f...!"
LAUGHTER
"I wasn't half right about the need for frequent revolutions!"
But seriously, isn't that screwed up?
Earth to America: they're plants, dude! What are we thinking?
Boo is right! I mean, it reminds me of Fahrenheit 451, in which a tyrannous government destroys books.
Mind you, I'd rather live under that tyranny. They just tell me WHAT to think, whereas modern-day drug laws tell me HOW and HOW MUCH I can think...
...because they destroy the mind-expanding
drugs
that actually help me think outside the box and grow new neurons, even!
Darn right, boo. Boo to the max, dawg. As in ruff!
What kills me is that in John Halpern's book "Opium," he paints the bland picture of the DEA reluctantly taking the plants away at the insistence of the Monticello Board of Directors. Whereas the way I hear it, the DEA stormed onto the place like so many...
Well, if the jackboot fits, wear it, right?
My name is Ballard Quass and I'll be here lambasting the
drug war
until the government thinks up a way to outlaw free speech.
Hey, if a government can criminalize plants, all bets are off, right?
============================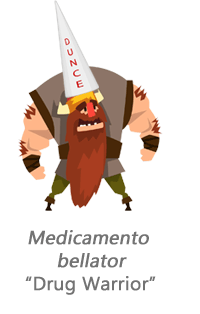 There was no drug problem in Ancient Egypt. There was no drug problem in Ancient Greece. There was no drug problem in Ancient Persia. There was no drug problem in Ancient Rome. There was no drug problem in the Mongol Kingdom. There was no drug problem in the Viking Era.
Why? Because until 1914, people were judged by how they behaved, not by what substances they had in their digestive system.
The Drug War is America's unique, anti-scientific way of looking at the world. It is a war that causes all of the problems that it purports to fix: above all, it brings "drugs" front and center in the minds of the irresponsible, encouraging them to explore and use substances that they might have never even heard of without the peurile and anti-scientific plant demonization of drug war zealots.
Manager's note: All of our comedians have undergone drug testing. None of them have been found to be using anything but the most mind-enhancing and therapeutic plants in Mother Nature's psychoactive pharmacy.
Dear Reddit readers: I do not respond to Reddit messages for at least three reasons:
Some of them are mean-spirited nonsense.
Some of them are non-mean-spirited but nonsense all the same.
Some of them are simply wrong-headed but inspire me to write fully reasoned comebacks, for which I simply don't have time.
If you really want to reach me, however, my name and email address can be found in a reasonably intuitive location on this site, so feel free to contact me there. I'll assume that anyone who takes the time to do so will have something meaningful to say ;)
Bone up on slam-dunk arguments against the drug war, starting with the fact that it was a violation of natural law to outlaw plant medicine in the first place. Check out
the site menu
for fun ways to learn more about the manifold injustice of the status quo, including many knock-down arguments never made before. Why? Because even the majority of drug-war opponents have been bamboozled by one or more of the absurd assumptions upon which that war is premised. See through the haze. Read on. Listen on. And Learn how tryants and worrywarts have despoiled American freedom, thereby killing millions around the world, totally unnecessarily, ever since the fateful day in 1914 when ignorant America first criminalized a mere plant -- and insisted that the rest of the world follow suit or else -- an act of colonialist folly unrivaled since the day of the genocidal Conquistadors.