AbolishTheDEA.com
March 2, 2020
The Myth of the Addictive Personality
by Ballard Quass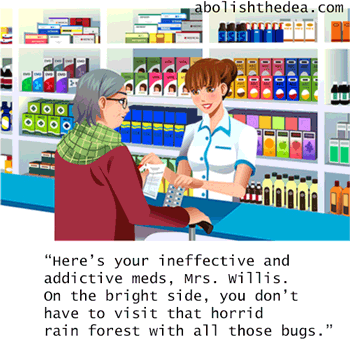 When I was a teenager, I was always begging the field of psychiatry to do more. It seemed to me that there must be so many medicines out there, surely something would set my mind straight.

The result of my naivete? I was promptly pronounced "an addictive personality."

I've now had 40 years to think about that diagnosis and I call bull crap.

Imagine a field like psychiatry, that limits itself to prescribing a handful of addictive medicines, suspicious of anyone who dares hanker for more. That hankering is, in reality, utterly sensible.

Suppose you walk into a jewelry store and they have only one kind of diamond. You ask for other kinds of diamonds and they label you ungrateful and greedy. That's what psychiatry does when someone dares to allude to a larger pharmacopeia that psychiatry has dogmatically forsworn, whether in conformance with drug law, scientism, and/or the interests of the pharmaceutical companies that crank out the starkly limited formulary of politically acceptable mood medicines.

How dare I want to pick and choose from among the thousands of rain forest godsends. Why can't I just go along with the modest medicine cabinet of addictive substances that chemists have created to narrow down our choices to a nice politically acceptable roster?

Of course, the true irony of this state of affairs becomes plain when we consider that well over 1 in 8 Americans are addicted to modern-day antidepressants, one out of four when it comes to women, and that many of these drugs are harder to kick than heroin. So psychiatry may have a problem with SOMETHING, but it's clearly not with addiction. My own doctor told me not even to bother trying to "get off of" Effexor, given its 95% recidivism rate. And so I become an eternal patient, with all the demoralizing emotional baggage that comes with that condition. It's pretty much the exact opposite of empowering a patient, to make them a ward of the state, forever to be defined by their so-called illness.

The so-called addictive personality is actually "on to something." They realize that there's a vast pharmacopeia out there and they want psychiatry to use it. Psychiatry, for its part, must label such individuals as pathological, lest their craving for more should serve to illuminate the niggardliness of psychiatric offerings and demonstrate all too clearly that the entire field operates in crass subservience to anti-patient drug war law and ideology.



Believe it or not, there are no addiction experts out there today. Why? Because almost all the godsend medicines that could treat addicts have been outlawed by the DEA. No surprise there. We'd have no aviation experts if the US government only allowed Americans to fly gliders. Ayahuasca, ibogaine, psilocybin, peyote, mescaline, specially processed ergot -- yes, even cocaine and opium could play a role in an addict's recovery were these substances to be employed advisedly by a pharmacologically savvy shaman. But American Drug warriors don't want to hear it. They have this superstition that says that any psychoactive substance is horrible once it's been demonized by politicians... and that is not science, but religion: specifically Christian Science religion.

For more on America's idiotic drug war and its role in aggravating addiction and complicating addiction recovery, check out the following broadsides against America's shameful drug war:








Bone up on slam-dunk arguments against the drug war, starting with the fact that it was a violation of natural law to outlaw plant medicine in the first place. Check out
the site menu
for fun ways to learn more about the manifold injustice of the status quo, including many knock-down arguments never made before. Why? Because even the majority of drug-war opponents have been bamboozled by one or more of the absurd assumptions upon which that war is premised. See through the haze. Read on. Listen on. And Learn how tryants and worrywarts have despoiled American freedom, thereby killing millions around the world, totally unnecessarily, ever since the fateful day in 1914 when ignorant America first criminalized a mere plant -- and insisted that the rest of the world follow suit or else -- an act of colonialist folly unrivaled since the day of the genocidal Conquistadors.