AbolishTheDEA.com
April 21, 2020
The War on Plants
by Ballard Quass
The new American Conquistadores: using flame throwers to keep the world safe for Big Liquor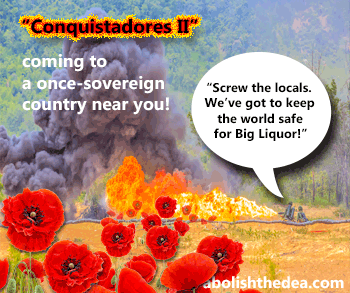 If you ever want to understand how absurd the drug war is, just substitute the word "plants" for "drugs" in your mind the next time politicians start blaming "drugs" for something.

"Today," says Donald Trump, "I am calling for the execution of those who deal in drugs."

TRANSLATION:

"Today, I am calling for the execution of those who deal in Mother Nature's plants."

For that's what the drug war really is: A WAR ON PLANTS, and as such it is every bit as superstitious and idiotic as the war on plant-using females of the witch-hunt days, to which the drug war is philosophically linked. For witch hunting never died out in America: it is alive and well. The Cotton Mathers of the 21st century have just replaced the word "witch" with the term "drug user" and gone on their merry way persecuting Americans who they don't understand. What was the witch's crime, after all, but the fact that she achieved "forbidden knowledge" through the ritualistic use of psychoactive plants?

To put this another way: The Drug War is just a Christian Science crack down on those who use Mother Nature's medicines for psychological healing and to achieve higher states of consciousness.

Christian Scientists, as you know, believe that we should be able to cure ourselves physically without resorting to drugs. Likewise the Christian Science drug warrior believes we should be able to control our mood and our conscious states in general without resorting to plant medicine. I need hardly add that this latter Christian Science is hypocritical, since the drug warriors have no problem with tobacco or alcohol - or even with synthetic drugs from Big Pharma to which 1 in 8 American males and 1 in 4 American females are addicted even as I type this - with many SSRI antidepressants being harder to "kick" than heroin.

But drug warriors will never use the word "plants" for "drugs" because they know it will make them sound every bit as silly, stupid, and intolerant as they actually are.

Substitute "plants" for "drugs" and then think about so-called "drug testing." That all-American business practice suddenly turns into the extrajudicial enforcement of Christian Science Sharia.

This, my friends, is why the drug war needs to end: not because "it does not work," as my fellow liberals are fond of saying, but because it should not work, it MUST NOT work in a free society, least of all in a country that was founded on natural law: i.e., the idea that there are some rights that the government cannot take away, even under the guise of protecting its citizens from themselves: and the most obvious natural right in the world is what John Locke called our right to the earth "and all that lies therein."

This is not rocket science. It is obviously absurd and unconstitutional to criminalize plants. But tyrants and worrywarts still get away with it. How? By strategically using the word "drugs" in place of "plants."