AbolishTheDEA.com
September 20, 2019
Time to Replace Psychiatrists with Shamans
by Ballard Quass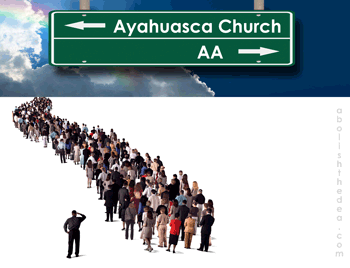 Originally posted in Google Group on metaphysical speculations, hosted by Bernardo Kastrup

I believe that psychiatry must become shamanism if it wishes to survive and be relevant, shamanism administered by "empaths" who are intimately familiar, not just with the handful of addictive "mind" drugs manufactured by Big Pharma, but with every single known psychoactive plant in the rainforest, and that they must use this knowledge to empower "lost souls" (or indeed anyone lacking self-fulfillment) with self-knowledge and clear-sightedness, choosing the plants to accomplish this goal in the way that a fashion designer chooses clothes to suit the person and to bring out the qualities that are missing but desired.

Only imagine: a new psychiatry that sees the "patient" as an actual individual and not one of an infinite set of human clones, all therapeutically susceptible to the same one addictive "miracle cure" that psychiatry claims to have on offer.

This, of course, requires that we cease outlawing the products of Mother Nature and re-legalize the plants and fungi that grow at our very feet. Unfortunately there are a number of old-guard forces that stand resolutely against this, four of which I've listed below:

1) PUNISHERS AND PROTECTORS: There are still plenty of Americans (and other anti-patient Nixon fans from Europe to China now) who believe that the need to punish abusers (and/or to protect them from themselves) trumps the psychological needs of the responsible masses who could benefit therapeutically from the re-legalization of natural substances. The quality of life of the masses means nothing to these groups: it's all about punishing and protecting a minority of supposed abusers.

2) PSYCHIATRISTS: Even if we can convince such people that the laws that are created by their "concern" have resulted in the creation of countless violent drug gangs in every major city on Earth, we're still going up against the psychiatrists, who are not going to go gently into that good night of re-legalization, since they have profited handsomely from having a monopoly on prescribing psychoactive drugs.

3) MATERIALISTS: Meanwhile, materialists, in their physics envy, will continue to deny the utility of drugs whose means of action cannot be sufficiently captured and quantified by their blunt tools of analysis. They have no interest in drugs that produce mere "insight" or even "happiness" for that matter (whatever that is) - they want to fix some clinically discernible chemical imbalance that they postulate as the root of all biological evil (or at least they want to be seen as fixing such an imbalance, even if their synthetic drugs end up causing the imbalance that they sought to cure, as is the case with modern anti-depressants).

4) PURITANS: Then there's the Westerner's subconscious belief in Christian Science with respect to mental health, thanks to which they look with suspicion and disapproval on someone who uses natural psychoactive substances to improve their mind. Such people see psychoactive drugs as "crutches." (They consider this suspicion to be common sense when it is actually just a tenet of faith of the modern Drug War, a belief that's just as philosophically problematic as the Christian Scientist's refusal to use aspirin for a headache.)

And let's not forget law enforcement, departments of correction, and Big Liquor.


"The White Man goes into church and talks about Jesus. The Indian goes into his tipi and talks with Jesus." Likewise, the White Man goes to AA to talk about getting off alcohol. Someday, he will actually get off of alcohol by using any one of hundreds of godsend psychoactive plants that the government has unconstitutionally banned, even for research purposes. That's Drug War "morality" for you: thump your chest about the Drug War, and to hell with actual patients.
In Post-Drug War America, the psychiatric pill mill will be replaced by empathic shamanism, where pharmacologically savvy teacher-therapists will use any plants in the world that they see fit in order to help their client achieve self-actualization in life.