AbolishTheDEA.com
March 20, 2020
Virus Update
by Ballard Quass
Keeping track of the dreaded Drug War Virus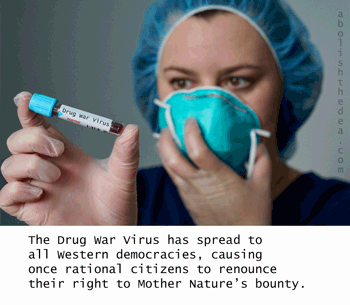 Just a quick message to let our readership know that we are doing everything we can to fight the drug war virus. The first and most important step is to recognize the symptoms of an infected person:

1) Pathological obstinacy. Those infected with the Drug War Virus stubbornly fail to recognize that criminalizing medicinal plants is the unconstitutional enforcement of Christian Science with respect to psychological healing.

2) Selective amnesia. Infected persons conveniently "forget" that Mother Nature's plants and fungi are the birth right of every human being under the natural law to which the American Declaration appealed in arguing against British injustice.

3) Logical confusion. The infected person also fails to realize that all the problems of drug abuse are either directly brought about or greatly exacerbated by the Drug War itself.

What can you do?

The key is to practice social distancing. Keep at least 6 feet away from every known or suspected drug warrior and their specious arguments. In so doing, you will underscore your contempt for the shoddy reasoning and fascist tendencies apparent in every carrier of the Drug War virus.






Bone up on slam-dunk arguments against the drug war, starting with the fact that it was a violation of natural law to outlaw plant medicine in the first place. Check out
the site menu
for fun ways to learn more about the manifold injustice of the status quo, including many knock-down arguments never made before. Why? Because even the majority of drug-war opponents have been bamboozled by one or more of the absurd assumptions upon which that war is premised. See through the haze. Read on. Listen on. And Learn how tryants and worrywarts have despoiled American freedom, thereby killing millions around the world, totally unnecessarily, ever since the fateful day in 1914 when ignorant America first criminalized a mere plant -- and insisted that the rest of the world follow suit or else -- an act of colonialist folly unrivaled since the day of the genocidal Conquistadors.