AbolishTheDEA.com
December 26, 2019
DEA Guilty of Crimes Against Humanity
by Ballard Quass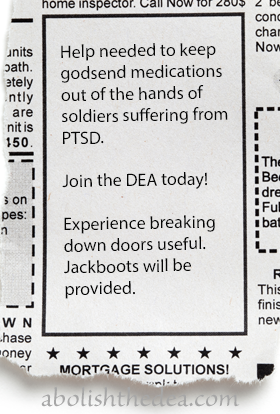 The DEA has blocked soldiers receiving MDMA for post-traumatic stress disorder, in defiance of their own judge's recommendation that the therapy move forward. That judge said the therapy could go forward in 1985 -- but the DEA shut it down, based partly on bogus scientific reports written to curry favor with drug warriors.



In doing this, the DEA is responsible for 30 years' (and counting) worth of unnecessary suffering for American soldiers.



They have blocked depressives and alcoholics from receiving godsend medications for four decades and counting.



In doing this, the DEA is responsible for 45 years' (and counting) worth of unnecessary suffering for alcoholics and the depressed.



They have blocked study of ayahuasca, even though it has been shown to grow new neurons in the brain. Pity the DEA fools who reach retirement age and start to unnecessarily suffer from Alzheimer's because they blocked this godsend plant from even being studied.

The question is no longer if the DEA is acting rightly. The answer is clear: the DEA is a despotic, violence-causing anti-democratic force determined to keep their jobs at the expense of the health and happiness of the American people. Just as alcohol prohibition single-handedly created the Mafia, substance prohibition has resulted in the creation of inner-city shooting galleries.

Abolishing the DEA is just the first step: Its officers need to be tried for crimes against humanity, to be hauled before a court to answer for their lies about Mother Nature's medicines, their self-dealing, their withholding of godsend therapies from the depressed, alcoholics and America's soldiers.

These are not simple crimes: they are crimes against humanity, from an anti-scientific anti-minority agency with a blatant conflict of interest in "scheduling" substances, since their very jobs depend on substances being illegal.

When the DEA rates substances like psilocybin and MDMA as "schedule one," they are protecting their own jobs, not the American people. The overwhelming scientific evidence is that both medicines can be therapeutic godsends. But the DEA rating system is not about science, it's about preserving DEA jobs and the oppressive reign of the DEA itself.

Yes, abolish the DEA... but then place its officers on trial for knowingly withholding godsend medications from the American people.


Join the DEA today, start busting heads tomorrow. Help needed to keep godsend medications out of the hands of soldiers suffering from PTSD. Ideal candidate will be heartless and have a contempt for Mother Nature's pharmacy. Experience breaking down doors a plus. Jackboots will be provided.