AbolishTheDEA.com
September 27, 2020
The word 'drugs' is a political term
by Ballard Quass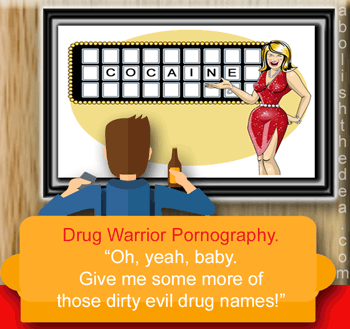 The word "drugs" in American society is like the word "scab": it does not merely define a category but it "pronounces upon it," morally speaking. By merely using the word "scab," the speaker implicitly asserts that a person becomes pure evil whenever they acquire a job that someone else has temporarily forsworn due to a labor dispute. Note that the labor dispute may have no merit to it whatsoever and that the "scab" in question may have a starving family at home, but no matter: merely by identifying such workplace interlopers as "scabs," we instantly both categorize AND judge them. Even the most conservative speaker yields huge argumentative ground to their ideological opponents merely by using the term. The word is like a conjuring spell for debate purposes: merely to pronounce it scores points for the striker's side of a labor dispute, without any pesky necessity of the striking workers adducing any substantive arguments on behalf of their own position.

The word "drugs" is just such another conjuring spell. Merely by invoking that term, the speaker implicitly proposes the existence of a dichotomy between two types of psychoactive substances in the world: "drugs," which are typically produced by Mother Nature and which are almost always evil, and "meds," which are produced by Big Pharma and which are so far from being evil that we are told by both doctor and society that we owe it to ourselves, medically speaking, to keep taking them every single day of our lives.

This is why those of us who think of Mother Nature as a goddess can make so little headway against the common-law power grab known as the Drug War: we have to use the word "drugs" in order to make our case intelligible to the average American, but by merely using the word, we implicitly acknowledge our own belief in the drugs/meds dualism that the Drug War itself has invented: i.e., Mother Nature's drugs bad, Big Pharma's meds good. By using the word "drugs" under the shadow of this imagined dualism, we are essentially admitting that the problem, if indeed there is a drug problem, must lie with Mother Nature's medicines, never with the Big Pharma godsends which it is our duty to take every single day of our lives.*

And so every discussion of "drugs" dutifully ignores the millions of Big Pharma addicts (including 1 in 4 American women) who have been turned into eternal patients by the psychiatric pill mill (the most disempowering state of medical affairs imaginable), never mind that there are online chat groups full of horror stories detailing the fruitless struggle of this silenced demographic to tear themselves free of the expensive and demoralizing healthcare system that has them in its expensive and lifelong thrall. Our very definition of the problem silences these voices and forces us to look for our supposititious "drug problems" only in the psychoactive pharmacy of the hated "drug dealer," that terrible citizen who is so evil as to actually sell Mother Nature's plant medicines to his fellow human beings. And so we wring our hands in horror should one single American so much as use cocaine (a "drug" that Sigmund Freud himself considered to be a godsend for depression), but have absolutely nothing to say about the huge addiction crisis that stares at least 10% of us in the face in the bathroom mirror every single morning of our lives.

Why do Drug Warriors use the word "drugs" in this politically loaded fashion? Because the Drug War has nothing to do with substance abuse in general: it's all about demonizing Mother Nature's psychoactive medicines in contradistinction to those cranked out daily by Big Pharma, with special demonization reserved for those plant medicines whose psychoactive effects could give Big Liquor (and Psychiatry, for that matter) "a run for its money" in a free market place.

If we wish to effectively speak truth to power in this bamboozled age of ours, we must remind the Drug Warriors that there are no such things as "drugs" in the morally tinged way that they use the term: there are simply substances (yes, even those produced by Big Pharma, Big Liquor and Big Tobacco) that are completely amoral, and which become good or bad only with regard to how they are actually used in the real world. This has been the default understanding about "drugs" throughout the ages, right up until 1914, when Francis Burton Harrison first violated natural law in America by banning a plant medicine under the racially motivated Harrison Narcotics Act.

Until we stop treating this fiction called "drugs" as an all-powerful bugaboo and scapegoat for social problems, we Americans will remain the most unscientific nation in the world when it comes to psychoactive substances: a nation that has turned Mother Nature's medicines into such evil boogiemen that it forces its own scientists to refrain from merely studying thousands of them on pain of incarceration. Of course, this shutdown on research makes it impossible for Americans to use criminalized substances wisely, but then that's exactly what the Drug Warrior wants: the state of ignorance thus produced results in unnecessary "drug-related deaths" that the Drug Warrior can then cynically parlay into propaganda on behalf of continuing their quixotic war on drugs - i.e., their quixotic war on Mother Nature's psychoactive plant medicines.

For the word "drugs," it turns out, is just a disparaging Christian Science epithet for Mother Nature's plant medicines.




*I say "if there is a drug problem," since there were no drug problems before 1914, except for those custom-created by immoral western capitalists in 1800s China. If a person was adversely affected by a "drug" prior to 1914, the blame (should anyone have felt it necessary to point out such an obvious fact) was naturally ascribed to the person's lack of proper education with respect to the use of the substance in question, not to the "drug" itself.